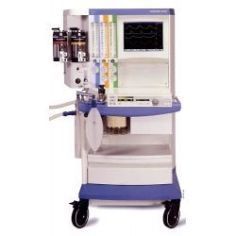 1/1
Drager
Location :
Seller or machines location:
AMERICA North (USA-Canada-Mexico)
Last check :
05 Jun. 2018
Used North American Drager 6000 - Anesthesia Machine
Description: Drager 6000 Narkomed Anesthesia Machine
The 6000 series machines were first launched in 1998 and were the first model in cooperation between Drager Germany and North American Drager in Telford PA. The machine utilizes the German designed Divan ventilator that is a under the table top piston ventilator. The ventilator controls are soft key LED numerics with a trim knob located below the table top. The Divan vent offers Volume, Pressure and SIMV modes of operation. The aluminum encased heated compact breathing system provides enhanced performance over prior models. The 6000 series has a color touch screen display for all ventilator parameters including built in gas analysis. An optional IPM module that adds multi parameter patient monitoring is available. The vaporizers are positioned on the left side of the machine and there are 2 positions. The unit has one drawer and a built in auxiliary oxygen flow meter. This unit is fully refurbished and has just had the 3 year PM completed this month. Also has Vapor 2000 sevo vaporizer and dez vaporizer.